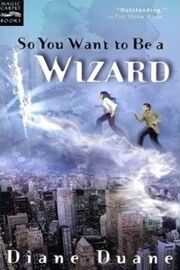 Starting with the publication of
So You Want To Be A Wizard
in 1983, the Young Wizards series has progressed through ten novels, about a million words, and two-going-on-three generations of both young and adult SF and fantasy fans.
2016 saw the publication of the most recent volume, Games Wizards Play, which qualifies the series for nomination for the special Best Series Hugo of 2017. More general info about the Young Wizards series can be found at http://youngwizards.com.
Author's post:
2017 Hugo Eligibility and the Young Wizards Series
Ad blocker interference detected!
Wikia is a free-to-use site that makes money from advertising. We have a modified experience for viewers using ad blockers

Wikia is not accessible if you've made further modifications. Remove the custom ad blocker rule(s) and the page will load as expected.