Series: World of the Five Gods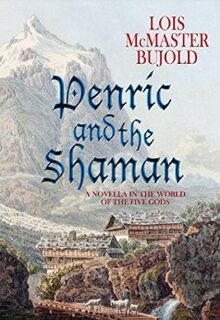 Author: Lois McMaster Bujold
Eligible Publication: Penric and the Shaman (novella), Spectrum Literary Agency, June 2016
In this novella set in The World of the Five Gods and four years after the events in "Penric's Demon", Penric is a divine of the Bastard's Order as well as a sorcerer and scholar, living in the palace where the Princess-Archdivine holds court. His scholarly work is interrupted when the Archdivine agrees to send Penric, in his role as sorcerer, to accompany a "Locator" of the Father's Order, assigned to capture Inglis, a runaway shaman charged with the murder of his best friend. However, the situation they discover in the mountains is far more complex than expected. Penric's roles as sorcerer, strategist, and counselor are all called upon before the end.

Eligible Publication: Penric's Mission (novella), Spectrum Literary Agency, November 2016
In his thirtieth year, Penric fell in love with light...
Learned Penric, a sorcerer and divine of the Bastard's Order, travels across the sea to sunlit Cedonia on his first covert diplomatic mission, to attempt to secure the services of a disaffected Cedonian general for the Duke of Adria. However, nothing is as it seems: Penric is betrayed and thrown into a dungeon, and worse follows for the general and his kin. Penric's narrow escapes and adventures — including his interest in a young widow — are told with Bujold's remarkable energy, wit and humor. Once again, Bujold has created unforgettable characters and a wondrous, often dangerous world of intrigue and sorcery. Third novella in the Penric and Desdemona series.
Ad blocker interference detected!
Wikia is a free-to-use site that makes money from advertising. We have a modified experience for viewers using ad blockers

Wikia is not accessible if you've made further modifications. Remove the custom ad blocker rule(s) and the page will load as expected.