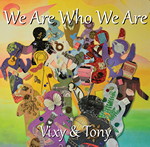 We Are Who We Are by Vixy & Tony.
Released by Vixy & Tony in 2016.
Our second studio album features our wonderful string section, Betsy Tinney and Sunnie Larsen. The album is powerful, energetic, and emotional. It contains a rock 'n roll remake of Vixy's "The Girl That's Never Been", lush covers of two classic Pegasus-award-winning filk songs, "Dawson's Christian" and "Uplift", and our evocative geek anthem title track.
Ad blocker interference detected!
Wikia is a free-to-use site that makes money from advertising. We have a modified experience for viewers using ad blockers

Wikia is not accessible if you've made further modifications. Remove the custom ad blocker rule(s) and the page will load as expected.