Version Control
by Dexter Palmer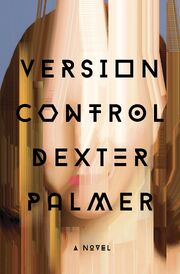 Published by Pantheon, February 2016
Rebecca Wright has reclaimed her life, finding her way out of her grief and depression following a personal tragedy years ago. She spends her days working in customer support for the internet dating site where she first met her husband. But she has a strange, persistent sense that everything around her is somewhat off-kilter: she constantly feels as if she has walked into a room and forgotten what she intended to do there; on TV, the President seems to be the wrong person in the wrong place; her dreams are full of disquiet. Meanwhile, her husband's decade-long dedication to his invention, the causality violation device (which he would greatly prefer you not call a "time machine") has effectively stalled his career and made him a laughingstock in the physics community. But he may be closer to success than either of them knows or can possibly imagine.
Reviews: Kirkus, NPR, Publishers Weekly
Ad blocker interference detected!
Wikia is a free-to-use site that makes money from advertising. We have a modified experience for viewers using ad blockers

Wikia is not accessible if you've made further modifications. Remove the custom ad blocker rule(s) and the page will load as expected.