Title: Traveler of Worlds: Conversations with Robert Silverberg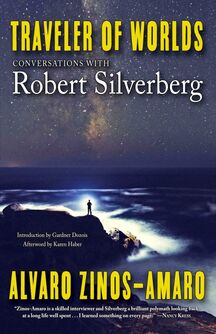 Author: Robert Silverberg and Alvaro Zinos-Amaro
Publisher: Fairwood Press
Publication Date: August 2016
In addition to exploring Silverberg's career, now in its sixth decade, this collection of transcribed conversations delves into aspects of Silverberg's life — such as his extensive travel, passion for film, opera and classical music — not covered elsewhere.
A decade-and-a-half-long friendship, and working together on When the Blue Shift Comes, afforded Alvaro the opportunity to speak at length with Silverberg. The result: a remarkably candid series of conversations that will be of interest to science fiction readers and anyone curious about the writing life.

Robert Silverberg is always interesting to talk to, as he is a brilliant writer and a well-read and well-traveled man, as well as a long-time participant, observer, and historian of the science fiction community. Within that community he tends to be a fairly cool and deflective character, who talks about many other things before himself. That habit means this book is distinctly more than a sequence of ordinary conversations with him, because the well-prepared and congenial Zinos-Amaro has taken the time, and Silverberg has given the time, to talk at some length, and coherently, about many of his central interests, including his own life. It makes for a typically indirect but ultimately fascinating portrait of the artist, and a very nice supplement to his wonderful novels and stories.
— Kim Stanley Robinson, author of Aurora

Reading Alvaro Zinos-Amaro's interviews with Robert Silverberg is a lot like parasailing: an exhilarating rush through atmosphere higher and richer than one usually inhabits, with sweeping views of everything below. Zinos-Amaro is a skilled interviewer and Silverberg a brilliant polymath looking back at a long life well spent. Writing, reading, travel, art, opera, archeology, food — he talks wittily and interestingly about them all. I learned something on every page.
— Nancy Kress, author of Yesterday's Kin
Ad blocker interference detected!
Wikia is a free-to-use site that makes money from advertising. We have a modified experience for viewers using ad blockers

Wikia is not accessible if you've made further modifications. Remove the custom ad blocker rule(s) and the page will load as expected.