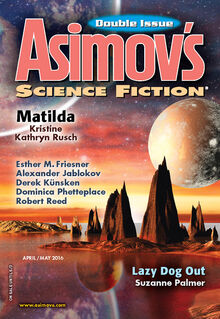 Title: Three Paintings
Author: James Van Pelt
Published: Asimov's Magazine, April/May 2016
The studio is set up. The refrigerator room is stocked. You've got breakfasts and lunches for at least two months in the pantry, as ordered, and the catering service will provide hot dinners each evening. I double-checked with them that they know they will be dropping meals off, not handing them to you personally. No conversation.
You already set up canvases and art supplies, so you're okay there.
An artist performs an unusual experiment. Inventive, fun and intense.
Ad blocker interference detected!
Wikia is a free-to-use site that makes money from advertising. We have a modified experience for viewers using ad blockers

Wikia is not accessible if you've made further modifications. Remove the custom ad blocker rule(s) and the page will load as expected.