Title: The Obelisk Gate (
excerpt
)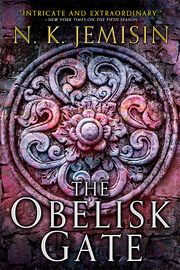 Author: N. K. Jemisin
Series: Broken Earth Trilogy
Publication Gate: August 2016
Reviews:
THIS IS THE WAY THE WORLD ENDS... FOR THE LAST TIME.
The season of endings grows darker as civilization fades into the long cold night. Alabaster Tenring – madman, world-crusher, savior – has returned with a mission: to train his successor, Essun, and thus seal the fate of the Stillness forever.
It continues with a lost daughter, found by the enemy.
It continues with the obelisks, and an ancient mystery converging on answers at last.
The Stillness is the wall which stands against the flow of tradition, the spark of hope long buried under the thickening ashfall. And it will not be broken.
Ad blocker interference detected!
Wikia is a free-to-use site that makes money from advertising. We have a modified experience for viewers using ad blockers

Wikia is not accessible if you've made further modifications. Remove the custom ad blocker rule(s) and the page will load as expected.