*** moved to Novelette category; story length is 16880 words ***
"The Jewel and Her Lapidary" By Fran Wilde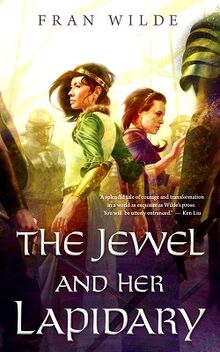 Published by Tor.com, May 2016
Cover artist: Tommy Arnold
From Fran Wilde, the Andre Norton and Compton Crook Award-winning author of Updraft.
The kingdom in the Valley has long sheltered under the protection of its Jewels and Lapidaries, the people bound to singing gemstones with the power to reshape hills, move rivers, and warp minds. That power has kept the peace and tranquility, and the kingdom has flourished.
Jewel Lin and her Lapidary Sima may be the last to enjoy that peace.
The Jeweled Court has been betrayed. As screaming raiders sweep down from the mountains, and Lapidary servants shatter under the pressure, the last princess of the Valley will have to summon up a strength she's never known. If she can assume her royal dignity, and if Sima can master the most dangerous gemstone in the land, they may be able to survive.
Ad blocker interference detected!
Wikia is a free-to-use site that makes money from advertising. We have a modified experience for viewers using ad blockers

Wikia is not accessible if you've made further modifications. Remove the custom ad blocker rule(s) and the page will load as expected.