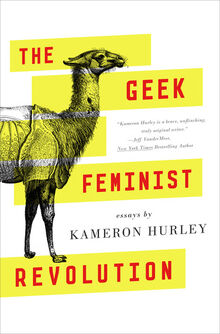 The Geek Feminist Revolution by Kameron Hurley
Published by Tor, May 2016
The Geek Feminist Revolution is a collection of essays by double Hugo Award-winning essayist and science fiction and fantasy novelist Kameron Hurley. 
The book collects dozens of Hurley's essays on feminism, geek culture, and her experiences and insights as a genre writer, including "We Have Always Fought," which won the 2014 Hugo for Best Related Work. The Geek Feminist Revolution also features several entirely new essays written specifically for this volume. 
Unapologetically outspoken, Hurley has contributed essays to The Atlantic, Locus, Tor.com, and elsewhere on the rise of women in genre, her passion for SF/F, and the diversification of publishing.
Ad blocker interference detected!
Wikia is a free-to-use site that makes money from advertising. We have a modified experience for viewers using ad blockers

Wikia is not accessible if you've made further modifications. Remove the custom ad blocker rule(s) and the page will load as expected.