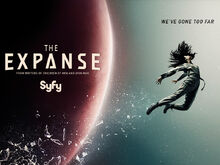 Title: The Expanse (imdb)
Creator/Writer/Director: Mark Fergus, Hawk Ostby
Studio: SyFy
Season 1 is eligible as a full series as the concluding episode was in 2016. The first four episodes were in 2015, but Eps 5-10 can also be nominated individually in Short Form.
Ad blocker interference detected!
Wikia is a free-to-use site that makes money from advertising. We have a modified experience for viewers using ad blockers

Wikia is not accessible if you've made further modifications. Remove the custom ad blocker rule(s) and the page will load as expected.