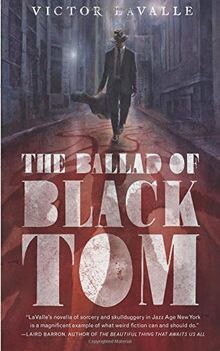 The Ballad of Black Tom by Victor LaValle
Published by Tor.com, February 2016
People move to New York looking for magic and nothing will convince them it isn't there. 
Charles Thomas Tester hustles to put food on the table, keep the roof over his father's head, from Harlem to Flushing Meadows to Red Hook. He knows what magic a suit can cast, the invisibility a guitar case can provide, and the curse written on his skin that attracts the eye of wealthy white folks and their cops. But when he delivers an occult tome to a reclusive sorceress in the heart of Queens, Tom opens a door to a deeper realm of magic, and earns the attention of things best left sleeping. 
A storm that might swallow the world is building in Brooklyn. Will Black Tom live to see it break?
Reviews: Barnes & Noble, Diabolique Magazine, The National Book Review, Publishers Weekly, Slate, Tor.com
Excerpt: Tor.com
Author Interviews: Fresh Air with Terry Gross, SF Signal
Ad blocker interference detected!
Wikia is a free-to-use site that makes money from advertising. We have a modified experience for viewers using ad blockers

Wikia is not accessible if you've made further modifications. Remove the custom ad blocker rule(s) and the page will load as expected.