Title: Summer In Orcus (full novel)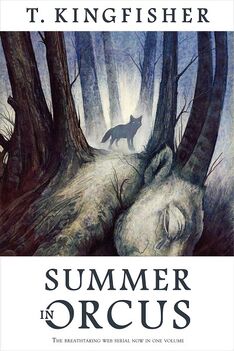 Author: T. Kingfisher (pseudonym of Ursula Vernon, used for her adult fiction)
Publisher: Red Wombat Studio
Publication Date: 2016
When the witch Baba Yaga walks her house into the backyard, eleven-year-old Summer enters into a bargain for her heart's desire. Her search will take her to the strange, surreal world of Orcus, where birds talk, women change their shape, and frogs sometimes grow on trees. But underneath the whimsy of Orcus lies a persistent darkness, and Summer finds herself hunted by the monstrous Houndbreaker, who serves the distant, mysterious Queen-in-Chains...
Ad blocker interference detected!
Wikia is a free-to-use site that makes money from advertising. We have a modified experience for viewers using ad blockers

Wikia is not accessible if you've made further modifications. Remove the custom ad blocker rule(s) and the page will load as expected.