(imdb)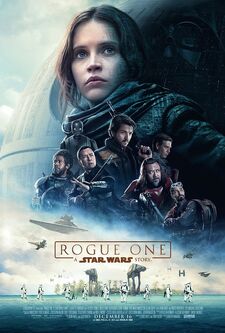 Directed by: Gareth Edwards
Written by: Chris Weitz and Tony Gilroy (screenplay), John Knoll and Gary Whitta (story by)
Produced by: Lucasfilm, Allison Shearmur Productions, Black Hangar Studios, Stereo D, Walt Disney Studios Motion Pictures
Starring: Felicity Jones, Diego Luna, Donnie Yen, Wen Jiang, Forest Whitaker, Ben Mendelsohn, Alan Tudyk
Former scientist Galen Erso lives on a farm with his wife and young daughter Jyn. His peaceful existence comes crashing down when the evil Orson Krennic takes him away from his beloved family. Many years later, Galen is now the Empire's lead engineer for the most powerful weapon in the galaxy, the Death Star. Knowing that her father holds the key to its destruction, a vengeful Jyn joins forces with a spy and other resistance fighters to steal the space station's plans for the Rebel Alliance.
Ad blocker interference detected!
Wikia is a free-to-use site that makes money from advertising. We have a modified experience for viewers using ad blockers

Wikia is not accessible if you've made further modifications. Remove the custom ad blocker rule(s) and the page will load as expected.