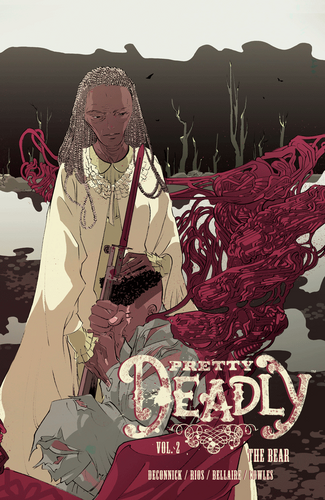 Pretty Deadly, Vol. 2: The Bear by Kelly Sue DeConnick; art by Emma Ríos
Published by Image Comics, August 2016. Collects Pretty Deadly #6-10, the last of which was published in June 2016.
"Sarah Fields is dying and her children strike a bargain with the Immortals: give them one month, until the moon is full again, to find her son. The boy is far away, in the trenches of France, stalked by the Reapers of Vengeance and Cruelty." Reviews: Strange Horizons (Vol. 1), Comics Alliance (issue #1), Comics Authority (Vol.1) Comic Book Resources (issue #1), Nothing but Comics (issue #10)
Ad blocker interference detected!
Wikia is a free-to-use site that makes money from advertising. We have a modified experience for viewers using ad blockers

Wikia is not accessible if you've made further modifications. Remove the custom ad blocker rule(s) and the page will load as expected.