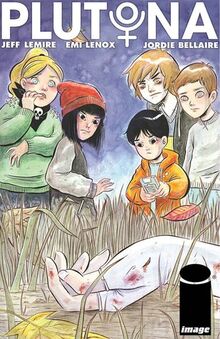 Plutona
by Jeff Lemire
Published by Image Comics, July 2016. Collects Plutona #1-5, the last of which was published in June 2016.
"Five kids discover the body of the world's greatest super hero, Plutona, in the woods after school one day. This discovery sends them on a dark journey that will threaten to tear apart their friendship and their lives."
Reviews: Vox
Ad blocker interference detected!
Wikia is a free-to-use site that makes money from advertising. We have a modified experience for viewers using ad blockers

Wikia is not accessible if you've made further modifications. Remove the custom ad blocker rule(s) and the page will load as expected.