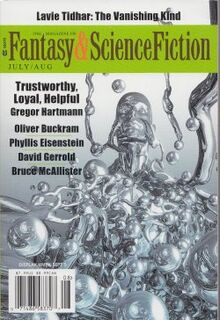 Title: Jesus Has Forgiven Me, Why Can't You?
Author: Betsy Phillips
Published: The Magazine of Fantasy & Science Fiction, July/August 2016
---
Finally he got fed up. "Betsy, Jesus has forgiven me. Why can't you?"
Did Jesus fuck you, Larry? Because if not, I don't think Jesus and I are in the same boat here. I didn't say that, because I'm not that clever that quickly, but when I thought of it twenty minutes after I hung up on him, believe me, I was tempted to call him back and get it out there.
But here's the thing. Jesus and I go way back. I've known him since I was a kid, since my dad works for His Dad. So I was like, well, if Jesus is running around forgiving Larry for doing me and his wife wrong, I want to know why.
Ad blocker interference detected!
Wikia is a free-to-use site that makes money from advertising. We have a modified experience for viewers using ad blockers

Wikia is not accessible if you've made further modifications. Remove the custom ad blocker rule(s) and the page will load as expected.