(imdb)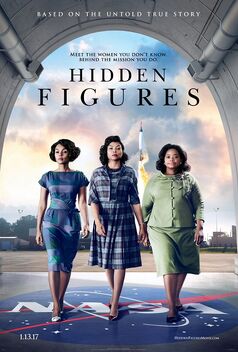 Directed by: Theodore Melfi
Written by: Allison Schroeder and Theodore Melfi, based on the book by Margot Lee Shetterly
Produced by: Levantine Films, Chernin Entertainment, Fox 2000 Pictures
Starring: Taraji P. Henson, Octavia Spencer, Janelle Monáe, and Kevin Costner
As the United States raced against Russia to put a man in space, NASA found untapped talent in a group of African-American female mathematicians that served as the brains behind one of the greatest operations in U.S. history. Based on the unbelievably true life stories of three of these women, known as "human computers", we follow these women as they quickly rose the ranks of NASA alongside many of history's greatest minds specifically tasked with calculating the momentous launch of astronaut John Glenn into orbit, and guaranteeing his safe return. Dorothy Vaughn, Mary Jackson, and Katherine Johnson crossed all gender, race, and professional lines while their brilliance and desire to dream big, beyond anything ever accomplished before by the human race, firmly cemented them in U.S. history as true American heroes.
Ad blocker interference detected!
Wikia is a free-to-use site that makes money from advertising. We have a modified experience for viewers using ad blockers

Wikia is not accessible if you've made further modifications. Remove the custom ad blocker rule(s) and the page will load as expected.