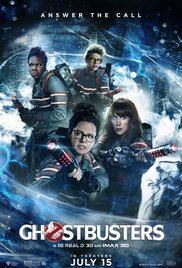 (IMDB)
Director: Paul Feig
Written by: Katie Dippold and Paul Feig
Produced by: Columbia Pictures
Starring: Leslie Jones, Melissa McCarthy, Kate McKinnon, Kristen Wiig,
Following a ghost invasion of Manhattan, paranormal enthusiasts Erin Gilbert and Abby Yates, nuclear engineer Jillian Holtzmann, and subway worker Patty Tolan band together to stop the otherworldly threat.
Ad blocker interference detected!
Wikia is a free-to-use site that makes money from advertising. We have a modified experience for viewers using ad blockers

Wikia is not accessible if you've made further modifications. Remove the custom ad blocker rule(s) and the page will load as expected.