Series: Diving Universe (excerpt)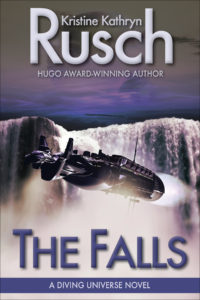 Author: Kristine Kathryn Rusch
Eligible Publication: The Falls, WMG Publishing, October 2016
Fleet sector bases close as the Fleet moves on. Everyone knows and expects it. But still, the announcement that Sector Base E-2 will close — although still thirty years in the future — breeds a mood of tension and anxiety.
So, when Rajivk Agwu finds two pairs of shoes on a trail near Fiskett Falls, but no sign of their occupants, his already heightened senses warn of danger.
Those on the base fare no better. Bristol Iannazzi, working on the notoriously delicate anacapa drive for a runabout, also notices something strange, something out of place, something dangerous...
Ad blocker interference detected!
Wikia is a free-to-use site that makes money from advertising. We have a modified experience for viewers using ad blockers

Wikia is not accessible if you've made further modifications. Remove the custom ad blocker rule(s) and the page will load as expected.