"Daughter of Blood" by Helen Lowe'
Edit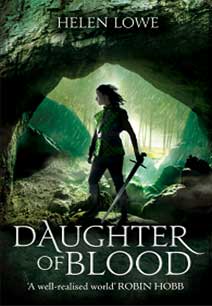 Book 3 of the series "The Wall of Night"
Published by Orbit Books, January 2016
A failing wall, a broken shield, and an enemy that will exploit every weakness...
Malian and Kalan have recovered two of the three legendary weapons of the Derai, but already it may be too late. The Wall of Night, fractured by centuries of blood feud and civil strife, is on the verge of falling.
Meanwhile, among Grayharbor backstreets, an orphan boy falls foul of dark forces. A daughter of the House of Blood must be married to the Earl of Night, a pawn in the web of her family's ambition, and Kalan is caught in a political web he may not be able to escape.
While even as Malian dodges Darkswarm pursuers in her search for the Shield of Heaven, rumour whispers that it may be broken beyond repair – and she herself may be the blade the ancient enemy will drive into the heart of the Derai Alliance.
Ad blocker interference detected!
Wikia is a free-to-use site that makes money from advertising. We have a modified experience for viewers using ad blockers

Wikia is not accessible if you've made further modifications. Remove the custom ad blocker rule(s) and the page will load as expected.