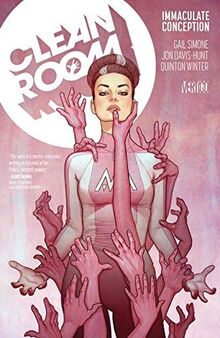 Clean Room, Vol. 1: Immaculate Conception by Gail Simone, art by Jon Davis-Hunt.
Published by Vertigo, June 2016. Collects Clean Room #1-6, the last of which was published in March 2016.
"Journalist Chloe Pierce had no idea that her fiancée, Philip's, decision to pick up a book by enigmatic and compelling self-help guru, Astrid Mueller, would change her life forever: by ending his! Three months after reading Mueller's book, Philip had blown his brains out all over Chloe's new kitchen and something in that book made him do it. "Now, Chloe will stop at nothing as she attempts to infiltrate Mueller's clandestine organization to find the truth behind Philip's suicide and a 'Clean Room' that she's heard whispers of--a place where your deepest fears are exposed and your worst moments revealed." Reviews: Publishers Weekly, Rogues Portal, Bleeding Cool
Ad blocker interference detected!
Wikia is a free-to-use site that makes money from advertising. We have a modified experience for viewers using ad blockers

Wikia is not accessible if you've made further modifications. Remove the custom ad blocker rule(s) and the page will load as expected.