(imdb)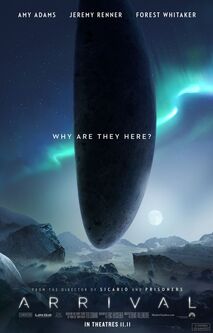 Directed by: Denis Villeneuve
Written by: Eric Heisserer (screenplay), Ted Chiang (based on the story "Story of Your Life")
Produced by: 21 Laps Entertainment, FilmNation Entertainment, Lava Bear Films, Xenolinguistics
Starring: Amy Adams, Jeremy Renner, and Forest Whitaker
When mysterious spacecraft touch down across the globe, an elite team - led by expert linguist Louise Banks - is brought together to investigate. As mankind teeters on the verge of global war, Banks and the team race against time for answers - and to find them, she will take a chance that could threaten her life, and quite possibly humanity.
Ad blocker interference detected!
Wikia is a free-to-use site that makes money from advertising. We have a modified experience for viewers using ad blockers

Wikia is not accessible if you've made further modifications. Remove the custom ad blocker rule(s) and the page will load as expected.