Arkwright (excerpt)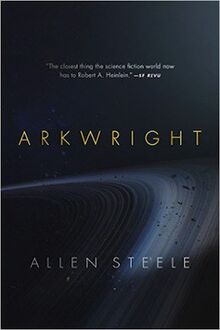 The Long Wait (Asimov's Readers Award Finalist novella which comprises the final 1/3 of the novel)
Author: Allen Steele
Publisher: Tor
Publication Date: March 2016
Reviews: John DeNardo, SF Signal, Andrew Liptak, io9, Lisa Taylor, The Speculative Herald, Jeff Somers, B&N Blog
In the vein of classic authors such as Robert Heinlein, Isaac Asimov, and Arthur C. Clarke, Nathan Arkwright is a seminal author of the twentieth century. At the end of his life he becomes reclusive and cantankerous, refusing to appear before or interact with his legion of fans. Little did anyone know, Nathan was putting into motion his true, timeless legacy.
Convinced that humanity cannot survive on Earth, his Arkwright Foundation dedicates itself to creating a colony on an Earth-like planet several light years distant. Fueled by Nathan's legacy, generations of Arkwrights are drawn together, and pulled apart, by the enormity of the task and weight of their name.
Ad blocker interference detected!
Wikia is a free-to-use site that makes money from advertising. We have a modified experience for viewers using ad blockers

Wikia is not accessible if you've made further modifications. Remove the custom ad blocker rule(s) and the page will load as expected.