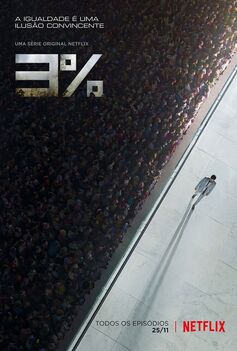 Creator: Pedro Aguilera
Directors: César Charlone, Jotagá Crema, Daina Giannecchini, Dani Libardi
Written by: Jotagá Crema, Cássio Koshikumo, Ivan Nakamura, Denis Nielsen
Produced by: Boutique Filmes
Distributor: Netflix (US release: 25 November 2016)
Starring: João Miguel, Bianca Comparato, Michel Gomes, Rodolfo Valente, Vaneza Oliveira
Eight episode series, total running length about six hours
A world divided into progress and devastation. The link between the two sides - Offshore and Inland - is a rigorous and painstaking system called The Process. Everyone in Inland has a chance to go through The Process to live a better life in Offshore. But only 3% make it through.
Ad blocker interference detected!
Wikia is a free-to-use site that makes money from advertising. We have a modified experience for viewers using ad blockers

Wikia is not accessible if you've made further modifications. Remove the custom ad blocker rule(s) and the page will load as expected.